If you want an IT infrastructure that runs well with minimal downtime, you design it that way from the start, procure the right equipment and install it properly.
For example, if you can't afford to have your workstations down, then you probably shouldn't purchase a custom built computer from the local shop down the street. We'll help you source computers from vendors that guarantee replacement part availability for the life of the computer and 4 hour same day service if needed.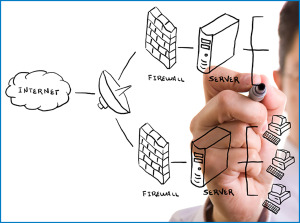 Business disruption doesn't just occur when an IT system fails. There is huge potential for downtime during an installation, upgrade or migration from an older platform. And if your equipment isn't installed and configured correctly, you may pay every day in substandard performance, underutilized features or higher support costs. We routinely find servers installed in small businesses as if they were in a peer-to-peer network, meaning the customer really didn't get what they paid for and they are underutilizing what they have. Don't trust a geek or nerd. Call the professionals at Exelos!
Small Business
We know small business technology including when and where to use virtualization, cloud services, wireless, and more. We'll recommend products that we know work well together and have the features our experience has shown us most clients will need for growth. Plus, we can factor in plans for VoIP, IP security cameras and other IP enabled technologies… even HVAC and facilities automation equipment! And did you know that security cameras can require 10x the bandwidth and storage needs of all other data you may be passing over your network? We do! It's "The Exelos Way!"
Local Government
Are you a local government related organization? We'll make sure you're connected with Pennsylvania COSTARs for pricing and quotes. We can also give you guidance if you're a non-profit, connecting you to some great low-cost and sometimes free hardware and software options.